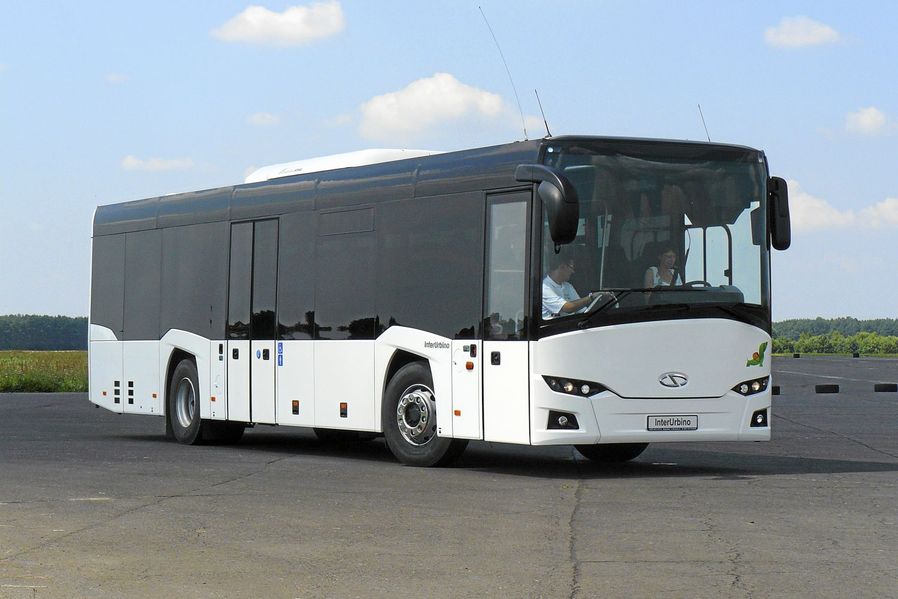 Last year, the professional testers from lastauto omnibus carried out a test drive on the 2012 version of the Solaris Interurbino high-floor intercity bus. It is intended as competition for the Irisbus Crossway.
According to the test drivers, the floor of the Solaris Interurbino is 860 millimetres above the road, which corresponds to the traditional intercity dimensions. The ample headroom of 2,130 millimetres and the light inner ceiling and glass skylights create an airy feel of generous space inside, according to the experts. The indirect lighting of the passenger compartments with strings of LEDs above the ventilation ducts is also a success.
Solaris Interurbino cuts an elegant figure
The last row of seats in the Solaris Interurbino was not very comfortable, however. Here the view of lastauto omnibus was that you should keep your head down – especially in the outside seats.  Even though the testers could hear some droning noise inside, the elegant appearance of the bus won them over.
For the Interurbino, Solaris offers three brands of six-cylinder engines. These are the Iveco Tector, the Cummins ISB6 and the DAF PR 265. In the view of lastauto omnibus, the DAF diesel with its 9.2 litre cubic capacity is the best engineered of the three machines. 265 kW (360 BHP) of power and a torque of 1,450 Nm is convincing even on the hilliest of routes.
Solaris offers a variety of engines and gearboxes
There is also a variety of gearboxes: Solaris uses manual gearboxes from Eaton and ZF, converter automatic gearboxes from Allison, Voith and ZF. During the first round of testing, the experts liked the Interurbino combination of DAF and ZF, not least because of the tidy engine compartment with checking and filling equipment visible at a glance.
The two-axle version of the Solaris Interurbino is twelve metres long, its big brother reaches 13 metres. To achieve this, Solaris stretches the wheelbase from 5,900 millimetres (the same as the Urbino city bus) to 6,760 millimetres. This gives an extra row of seats on board, but more limited manoeuvrability.
Larger luggage compartment, flexible diesel tank
The luggage compartment of the 2012 series has grown from 5.2 to 6.2 cubic metres – depending on the size of the centre door selected. Many of the Interurbino's other components are also flexible: the diesel tank can hold a volume of 250 or 350 litres, depending on usage and weight. The options for the 2012 model also include electronically controlled air suspension and ESP. The same applies to the air-conditioning system up on the roof. Other components are fixed: ZF axles, for example, with independent suspension.