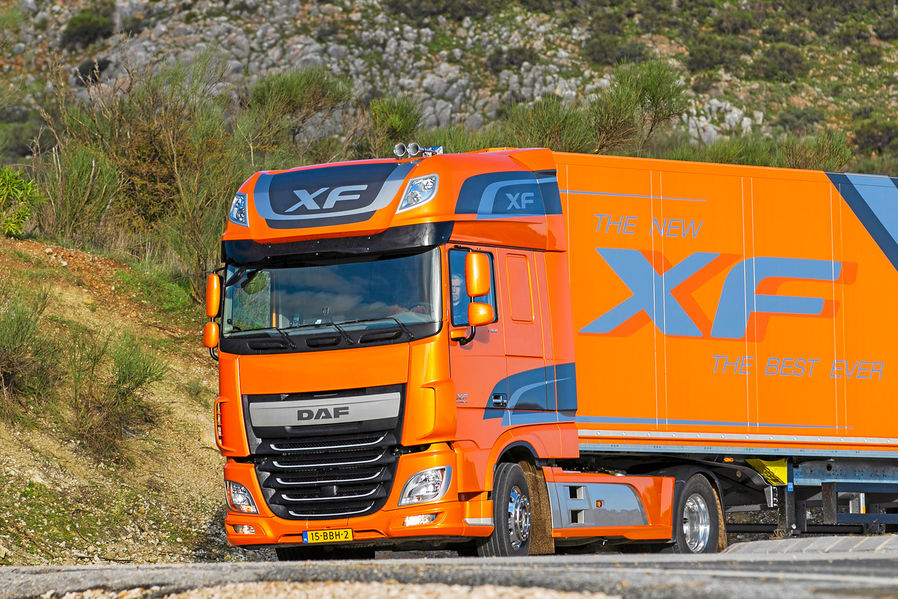 The DAF XF with Euro-6 engine was introduced a little over a year ago. lastauto omnibus magazine got hold of a vehicle from the demonstration fleet at the time and put it to the acid test.
Cot in the DAF XF 87 Inches (2.2 m) Long
The first thing the testers noticed was the easy ingress into the DAF XF. The nonglare instruments and the five-inch color display received good marks as well. The steering-wheel buttons, left for radio and telephone and right for driving functions, were comprehensible at first glance. The generous adjustment range for the steering wheel and the seat pleased the testers. The cot, too, in the new DAF XF is now longer, measuring a solid 87 ft. (2.20 m).
The testers at lastauto omnibus had a good time overall. Who would not like to test-drive a brand-new heavy truck in Andalusia? The roads in the south of Spain were praised accordingly. One of the live comments was: "We are driving with 40 tons, 510 HP and 1840 lb-ft (2500 Nm) of torque on the almost deserted, well-designed and constructed  Andalusian freeways A-45, A-92, and A92 M."
Praise for Driving Comfort and Low Interior Noise
The DAF XF was praised as well; for example, for its driving comfort and its low interior noise levels. The editors commented positively on the side windows without sight-obstructing bars, which afford good visibility. The test progressed speedily, due to 510 HP and a long axle ratio. On a 7% incline, the steepest stretch of the test circuit, the XF latched on to the ninth gear at 1300 rpm and a speed of 26 mph (43 km/h).
DAF continues to trust in the AS-Tronic automatic transmission made by ZF, but in a modified version. (12- and 16-speed manual transmissions are theoretically still standard, but they are now rarely ordered for long-distance hauling). A new eco-roll function, which shifts into neutral on gentle declines for easier rolling, is now available. The testers did not think that this worked as well as in the former Mercedes Powershift model.
Proven Engines in the DAF XF
Although DAF switched to Euro-6 for emissions, the horsepower remained unchanged at 408, 462, and 510 HP. The empty weight is approx. 90 kg higher and the price 14 000 € higher (includes an extended power-train warranty and ESP, standard) than those of the comparable XF 105 Euro-5.
In order to continue to offer tanks with volumes of up to 400 gallons (1500 liters) with a wheelbase of 150 inches (3.8 m), the 90-liter (approx. 24 gallons) AdBlue tank was installed under the driver's cab. A larger 140-liter tank would have to be mounted to the frame.