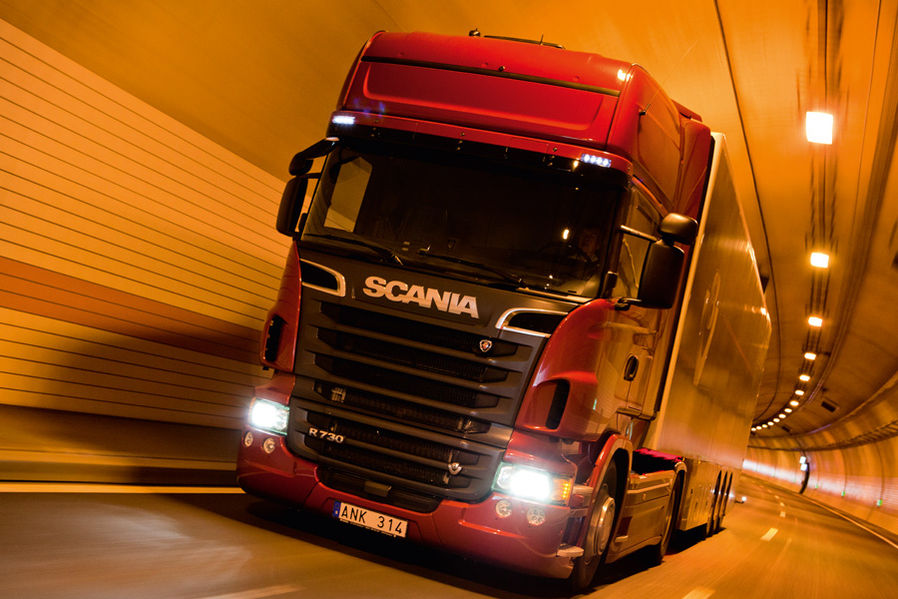 A displacement of 1000 cubic inches (16,4 liters), eight cylinders, 730 HP—no other production truck in 2011 had more power than the Scania R 730 V8 Topline. These enticed FERNFAHRER magazines to have professional drivers test this monster at the wheel.
Scania R 730 Takes Off With Gusto
Dirk Kappesser from Rutsweiler liked the Swedish truck as soon as they heard its engine. "A V8 just sounds really good," he told the editors of the magazine. Although he had previously driven trucks by Scania, Volvo, and MAN, he was very excited, "I have never driven a truck that takes off like that!" The 24-ton load could indeed not slow down the supermuscular Scania R 730. This was a truck for routes with many inclines and a full load, opined Kappesser, "I would love to drive with this truck in the Dolomites." The man from Rutsweiler also found that the Scania handled the road very well. The suspension is just excellent, and the seats are comfortable. The steering is pleasantly light and direct. Kappesser found the Scania absolutely pleasing and gave it high marks for its low  interior noise, the Opticruise transmission, and the proximity control.
Swabian Investigates the Practical Side of the Swedish Power house
Ursula Brecht from Vaihingen/Enz evaluated the Scania R 730 V8 Topline more from a practical point of view. She drives a Scania R 620 Topline and knows the models of the Swedish manufacturer very well. "In this new truck, I can finally put a beverage case through the storage compartment flap." The several trays within reach of the driver were also appreciated by the Swabian. However, more  would be even better. Ursula Brecht is generally more concerned about the interior quality of the Scania. She also found the expendable, lower bed better than the one in her own Scania. She commented on the instruments, "They are more appealing than the previous ones." The driver from Vaihingen was obviously excited about the engine. On a country road with an incline of six percent, she commented into the editors' microphone, "It goes like off a rocket! I am now driving nearly 45 mph (70 km/h) and would go even faster  if I were allowed to." Ursula Brecht also praised the retarder, brake speed control, and the automatic transmission.
Scania R 730 generally makes van drivers happy
The third professional tester was Norbert Berger from Bodenwöhr. Berger was familiar with Swedish trucks in 2011, as he had driven a Volvo FH16/610 Globetrotter XL at the time of the test. Berger, who is used to heavy transports of up to 110 tons, was very pleased with the driving performance of the Scania R 730. "It means business from the get go and provides max torque right after the upshift." He further praised the economical automatic transmission. And praise kept coming. Maneuvering mode, retarder, lane departure warning system, and proximity control system all made Norbert Berger smile. However, the interior of the Scania R 730 made his delight complete. "Everything inside looks cheery, with clearly visible instruments, sensibly arranged switches, and no useless frills. This makes driving very pleasant."