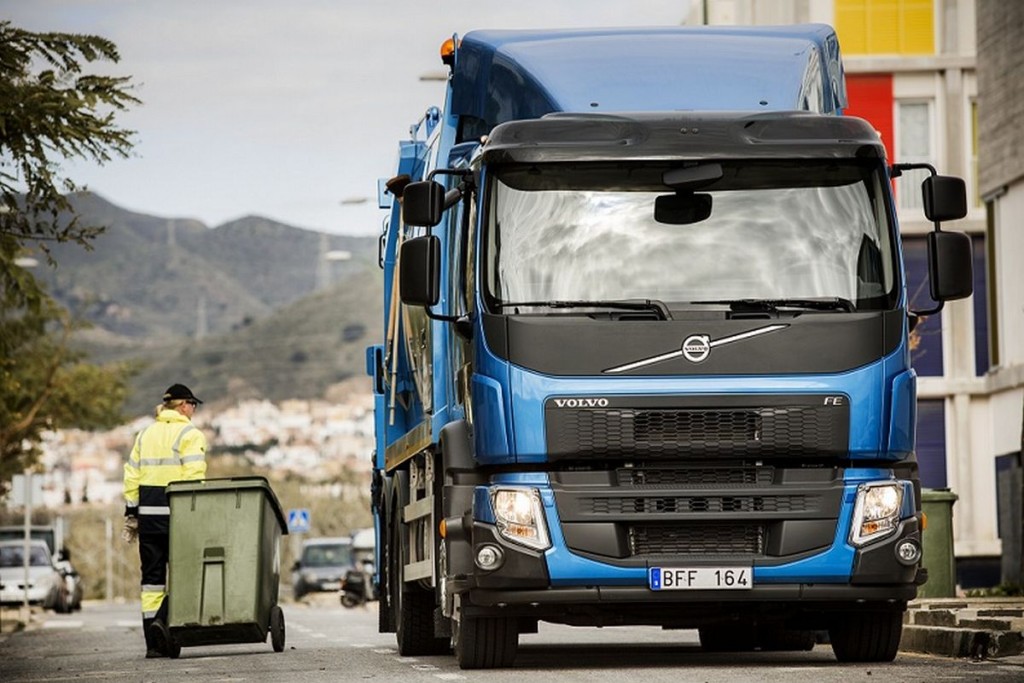 Volvo Trucks has revised its light and medium-sized trucks Volvo FL and Volvo FE. Not only was the interior redesigned, but Euro-6 engines are also available now. The exterior design was also spruced up. In particular, the front part of both trucks has been reworked: The so-called Iron Mark has been moved up into a wide, black surface below the windshield. The newly designed daylight running lights are reminiscent of heavy Volvo trucks. They are integrated into a three-part bumper with end-pieces made of steel.
In the interior, drivers can look forward to new instrumentation and ergonomically shaped seats. The headrests are integrated into the seats, as are the safety belts. The anchoring of the seats was reinforced to reduce risks in the event of an accident.
D8 Engine with Three Performance Levels
Speaking of safety, in the future, the Volvo FE and FL series will be equipped with standard ESP. Propulsion is provided by the new D8 six-cylinder engine with a displacement of 7.7 liters (470 cubic inches). It is available in three versions: 320 HP/880 ft-lb (1200 Nm) of torque, 280 HP/775 ft-lb (1050 Nm) of torque, and 250 HP/700 ft-lb (950 Nm) of torque.
Alternatively, Volvo offers the smaller D5 four-cylinder engine with a displacement of 5.1 liters. It is available in two performance versions: 240 HP/664 lb-ft (900 Nm) of torque, or 210 HP/590 lb-ft (800 Nm) of torque. With cooled exhaust gas recirculation provided by a variable-turbine turbocharger, both engines comply with the Euro-6 emission specifications. This is complemented by an SCR emission control system with a reductive catalytic converter and a particle filter. Fuel consumption is expected to correspond to that of the Euro-5 engines.
I-Shift Transmission for the FE
The customer may also choose from different transmissions. In the future, the Swedish company will also offer the automatic I-Shift transmission for their Volvo FE. The FL is now also available as a 12-ton truck with a D5 engine providing 240 HP and an optimized I-Sync transmission. The smaller wheels lower the cab height by about 2 inches (5 cm), which makes ingress easier and improves overall visibility.
Volvo complements the introduction of the new Volvo FE and FL series with a new service offer. The so-called "Golden Contract" includes maintenance and repairs. The truck can be connected to repair shops by radio for continuing vehicle usage-analysis for monitoring the wear and tear of specific components. This ensures, according to Volvo, that the vehicle is only serviced when needed.