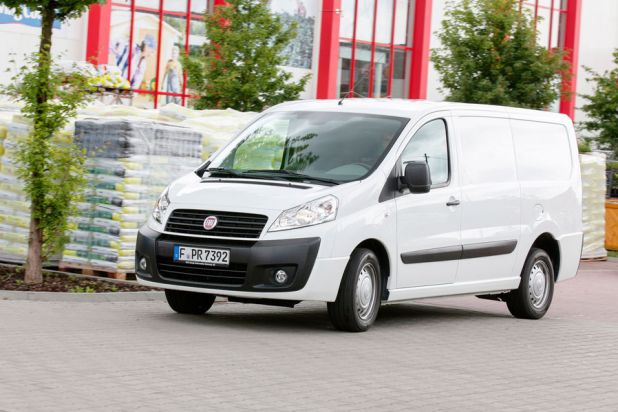 The Fiat Scudo with the Euro-5 exhaust standard was launched in 2012. The conversion from Euro 4 to Euro-5 brought some changes to the smallest and the largest engine. The medium-strength engine – the 120 Multijet – was replaced by a follow-up model, the 130 Multijet.
A test conducted by trans aktuell magazine in 2012 showed that the engine, which was eight hp stronger than its predecessor, was very eager and willing. The transporter accelerated so powerfully from a standing position that the testers wondered whether the 221 lb-ft (300 Nm) of torque specified might be based on a measuring fault. This high torque also makes driving on the freeway more pleasant. Its long-ratio sixth gear allows the Scudo to roll comfortably through traffic. It even makes it possible to accelerate and pass in flat sections, if needed. The acceleration stops at 106 mph (170 km/h), not because the power is insufficient, but because Fiat has sensibly limited the vehicle to that speed.
Fiat Scudo with Pleasing Fuel Consumption
The test fuel consumption for the 130 Multijet was pleasing. The standard fuel consumption was on a par with the 90 Multijet, although this engine is almost 40 HP stronger. A combined fuel consumption to the tune of 34.6 mpg (6.8 liters/100 km) put the Scudo in the same range as its competitors with comparable performance.
Caution is required when driving around curves in first or second gear. Torque is sufficient to make the front wheels spin, even when they are only moderately turned. The Scudo – like many other front-wheel drives – will then push across the front axle out of the curve, which may have unpleasant consequences on a wet surface.
Scudo Steering Slightly Stiff
The steering of the "brother" of the near-twins, Citroën Jumpy and the Peugeot Expert, could be a bit smoother. Steering in city traffic sometimes takes effort according to the tester of "trans aktuell." The gruff transmission of the Italian transporter contributes to this effect. Fast and accurate gearshifts were hardly possible in this test. The testers found it difficult to get used to the tactile feedback, even after frequent gearshifts. This sometimes led to the selection of a wrong gear, and, again and again, led to several failed attempts to start in third gear.
The rearview mirrors provided some surprise during the test drive. The Scudo has two mirror sections, a normal, adjustable one and a static panoramic mirror. This arrangement can still result in blind spots, depending on the driver size and seat position, and in spite of having one mirror on top of the other. Each driver should test them for his preferred seating position. An alternative solution for the manufacturer would be an adjustable panoramic mirror that provides a view of the whole area next to the vehicle. This would increase safety while driving this energetic truck over multi-lane roads.