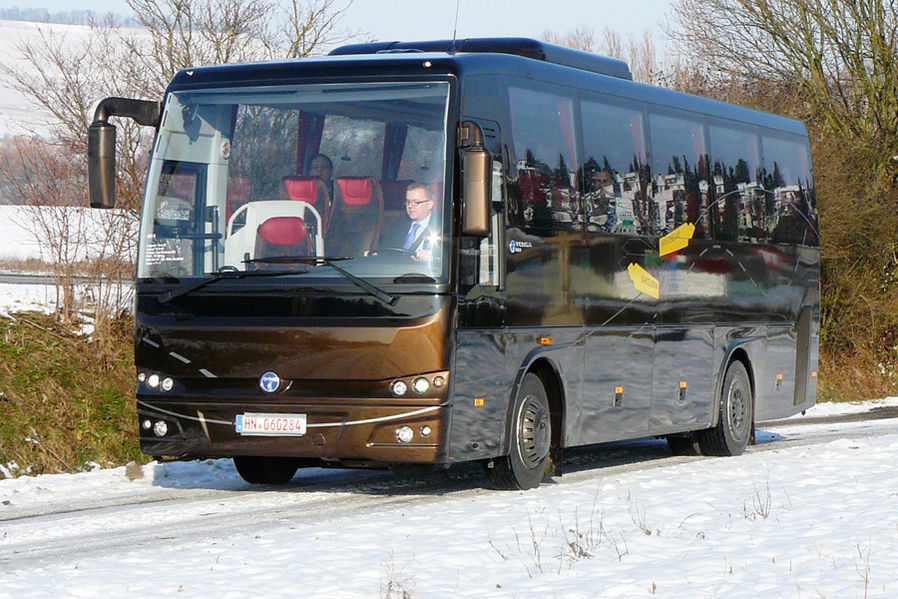 Testers from lastauto omnibus magazine tested the Temsa Midi MD9 at the beginning of 2011 and were absolutely ecstatic about it. The cockpit made them rave: spacious, neat, all important devices, such as tachograph, climate center, and entertainment electronics were in plain sight and easy to reach. The chorus of praise continued with "perfection in the midi section." Even the price of 170000 € for the Temsa Midi MD9 could not put off. the testers. After all, air conditioning, DVD system, refrigerator, Xenon headlights, and split roller shutters in the front were all included for this tidy little sum.
Praise for the 290 HP Engine of the Temsa Midi MD9
The automatic transmission by Allison, also standard, shifts oh so smoothly through six gears, according to the testers. Given the choice between driving a MAN six-cylinder engine with 250 HP or one with 290 HP, the experts chose the stronger engine, due to the total weight of 14 tons.
The interior of the Temsa Midi MD9 was also largely impressive: velour and carpeted floor made a comfortable impression. Since the Temsa does not use pedestals, club bus versions with 2+1 seating are possible. The only negative point: 39 seats in the Temsa-Midi MD9 make for very cozy seating. The testers therefore recommend: "Taking out one row of seats and installing a toilet and a kitchen in the rear will work wonders for the little one."