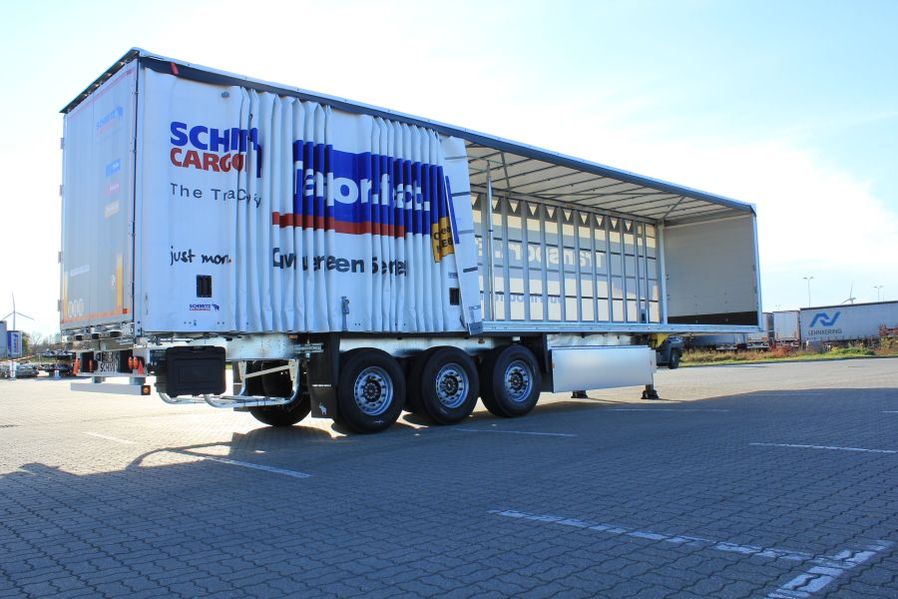 Less than 18 months ago, Schmitz Cargobull introduced the Curtainsider S.CS with a new "Speed Curtain" tarp system to the public. The sliding curtain opens or closes in less than 35 seconds, according to the manufacturer.
The eurotransport.de internet portal explains the function of the system as follows: the Speed Curtain is guided by ball-bearing-mounted steel rollers on top and at the bottom. The opening of belt tighteners is therefore not necessary. Once the front or rear fastener has been opened, the driver can push the tarp and compact it to 14'6" (4.4. m) in front or back. The loading width is 345 inches (8750 mm). The complete opening or closing process takes approx. 35 seconds, according to Schmitz Cargobull.
The Load-Securing System in the Curtainsider Works without Lateral Sliders
The Curtainsider is further equipped with a load-securing system that does not require lateral sliders. it is therefore not necessary to open the stanchions or the slats that are otherwise required to secure the load. The micro-stanchions integrated in the tarp ensure the stability of the structure. They are guided by ball-bearing-mounted steel rollers in steel guides with integrated pallet stops. The guides are also bolted to the external frame.
According to Schmitz Cargobull, the system fulfils all requirements for securing loads according to DIN EN 12642 Code XL, including beverages. The fastening eyelets can also be reached from the loading platform—even when the tarp is closed—and can be stressed with a tension of 2 000 daN. A pallet stop that is bolted to the frame profile comes standard and stops the load from sliding towards the side. The new Speed Curtain can be mounted on one or on both sides, as required. The tarp system is also said to provide aerodynamic advantages, since it does not require standard tarp fasteners that generate air turbulence.  The Speed-Curtain Curtainsider with a loading width of 345 inches (8750 mm) and a maximum interior width of 98 inches (2490 mm) is available in the versions UNIVERSAL version (interior clearance 102 inches [2600 mm]) and MEGA (interior clearance 118 inches [3000 mm]).