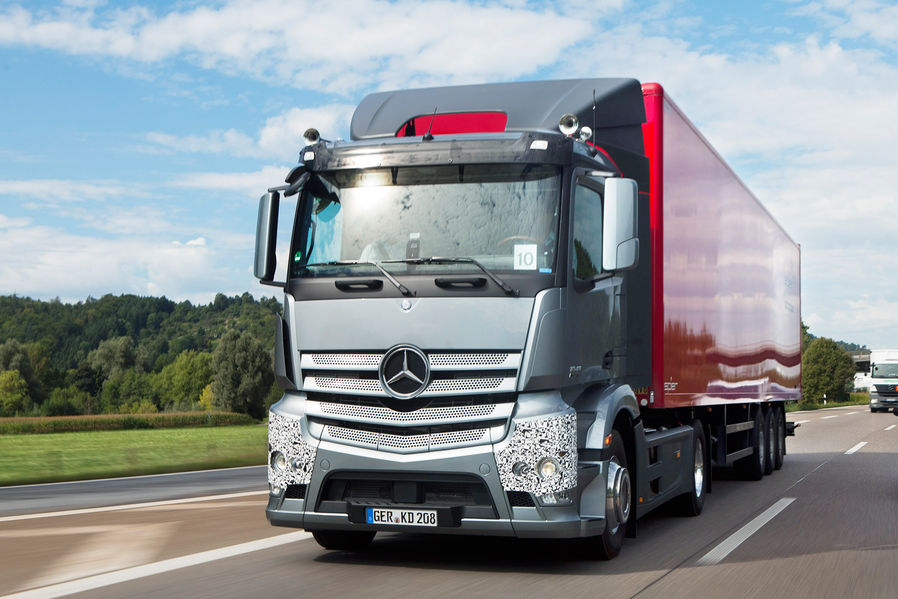 In the summer of 2012, lastauto omnibus drove the brand-new Mercedes Antos. It was so new that the headlights were still covered with the stickers generally used to disguise prototypes. The first impression of the testers: the Mercedes Antos looks darn similar to the Actros, its big brother.
The medium-length driver's cab of the Mercedes Antos is 90 inches (2.30 m) wide. Tired drivers can rest on a 24 x 78 inch (60 cm wide, 200 cm long) cot—not bad for a distribution truck.
Mercedes Antos Offers a Comfortable Cockpit
The testers found that sitting behind the steering wheel feels comfortable, even when the driver is not built like a fashion model. The adjustable multi-function steering wheel helps to find a seating position that works as a perfect antidote to daily traffic stress, according to lastauto omnibus.
The twelve-gear Powershift transmission worked well during the test, and even novices behind the wheel should not have any problems with it. The perfect steering and the harmonically designed chassis of the  Mercedes Antos made the experts of lastauto omnibus smile broadly. The tests in the summer of 2012 found the chassis and cab suspensions pleasantly firm and well-tuned , and lateral roll was low.
Big Compliment: "Actros Light"
The testers from the magazine referred to the Mercedes Antos as "Actros light," and this was indeed meant as a compliment. The maximum total weight of 40 tons should not cause a problem, either. The OM 470 in-line six-cylinder engine underneath the cab was highly praised. The 652-cubic-inch (10.7-liter) version for the Antos ranges from 326 HP to the 430 HP version with ample 1550 lb-ft (2100 Nm). Generous 428 HP puts it in the upper echelon of performance in the distribution-truck segment—just right for towing loaded semi-trailers from the warehouse.
The Mercedes Antos is also figures well when it comes to safety. Good visibility in  traffic, as well as vibration-free rearview mirrors, among others, contribute to it. Almost any piece of safety equipment is available: vehicle proximity control 3, attention assistant against falling asleep at the wheel, a further refined lane departure warning system, and more.