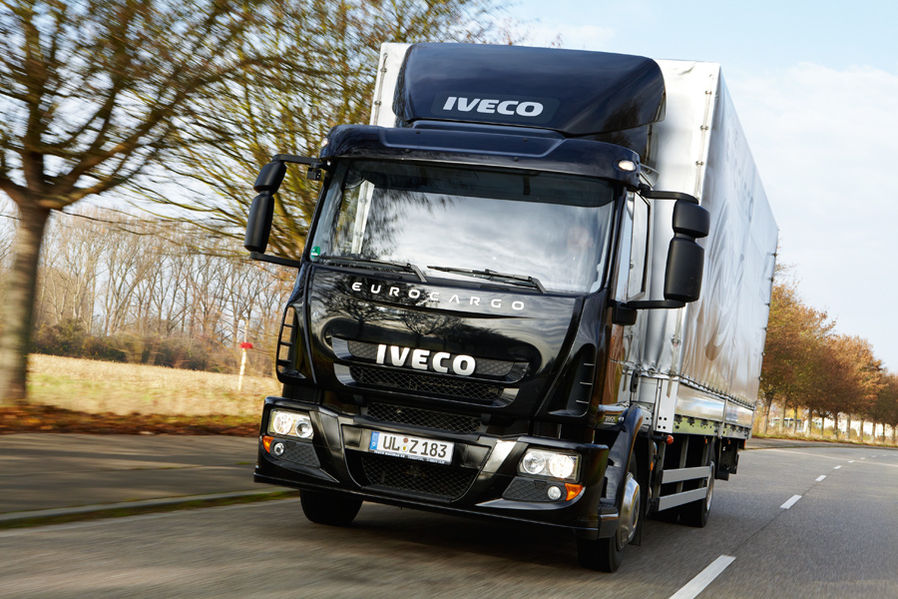 The 11.99-ton Iveco Eurocargo 120E25 is Iveco's best-seller. It has a market share of approx. 20 percent Europe-wide and is often only second to Mercedes in sales figures.
This works, although the Iveco Eurocargo 120E25 is not a 100% toll avoider. Its design spells tractor for trailer operation. This is backed up by 251 HP, a towing capacity of 26 tons and the slightly reduced payload of the trailerless truck.
The Engine of the Iveco Eurocargo 120E25 Runs Smoothly
When lastauto omnibus tested the Iveco in 2011, drivers felt spoilt by the smooth running of the Iveco six-cylinder engine. However, the 251 HP Eurocargo with a total weight of 12 tons attacked its tasks so powerfully that the testers soon got the impression that it will take a trailer to  keep this exuberance in check. The axle drive ratio of 4.11, which results in a speed of 53 mph (85 km/h) at 1700 rpm at 85 km/h further contributed to this impression. The advice from the testers: Since the tractor has ample power, it should have the next-highest ratio power to reduce fuel consumption on fast sections.
The testers were not completely pleased with the fuel consumption: a little bit less than the 12.7 mpg (18.5 liters/100 km) would have been preferable. One of the main suspects for the high fuel-consumption values is the very narrow driver's cab. It provides insufficient deflection for the angular superstructure.
Driver's cab: The Good, the Bad, and the Indifferent
Although the driver's cab was criticized for increasing fuel consumption lastauto omnibus was more satisfied with its interior. The instruments received the same good marks as the comfortable suspension. However, rough surfaces were occasionally noticeable in the steering wheel. The interior noise was relatively high at 71.2 dB(A) at 53 mph (85 km/h) but was not deemed unpleasant by the testers. Drivers of the Iveco Eurocargo 120E25 will lack trays within reach and room to move, which the testers again blamed on the tightly designed driver's cab.
The overall conclusion of the testers was satisfactory. The Iveco Eurocargo 120E25 was rated as a veritable traction engine for light van-trailer combinations in distribution traffic, appropriate driving comfort and unproblematic handling.