Recovery in Online Demand for Commercial Vehicles follows V-Shape
Not all Vehicle Segments are equally affected 
Rapid Demand Recovery on TruckScout24
Number of Online-Offers on TruckScout24 increases
In the past few weeks, the current Covid-19 pandemic has resulted in unprecedented market turbulences and exceptional social situations, which can be observed in public barometers of the economy. The flood of news on the Internet and the demand for more information represent in real time the situation of an unstable society. Therefore, it is not surprising that in times of economic uncertainty news agencies, such as the German news magazine "Frankfurter Allgemeine Zeitung", as a medium of trust, can record 80 % more digital access.
Based on its website traffic, TruckScout24 has analyzed the effects of the corona crisis on the online demand for commercial vehicles throughout Europe. The statistics show: A short and fast loss in traffic is followed by an immediate recovery.
Global traffic increases again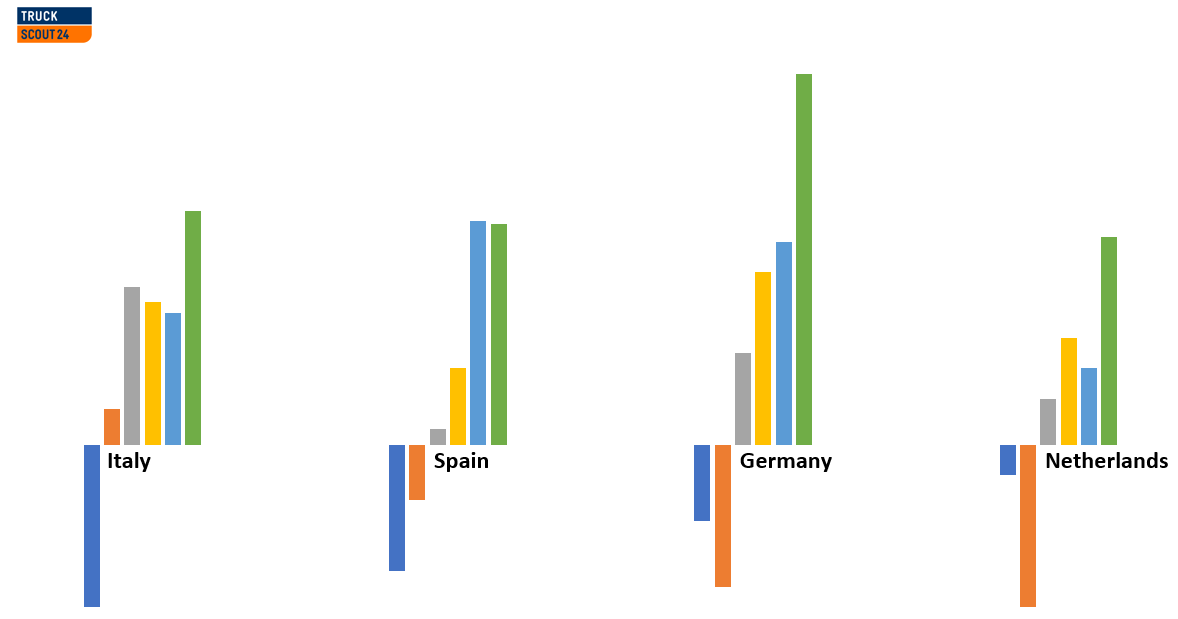 The global effects of the corona crisis on the commercial vehicles started in March. While Italy and Spain show significant traffic losses in the first week (-32 % and -25 %), the effects in Germany and its neighboring countries only become visible in the second week: -28 % less traffic in Germany, the Netherlands lose -32 %. At the same time, the situation in Southern Europe is easing: Spain loses -11 %, Italy even shows +5 % more traffic compared to the previous week.
Positive trend visible after 2 weeks
However, in week 13, after only two weeks of traffic loss, all countries start to recover, and the global traffic increases up to +17 % again. Compared to week 15, the global traffic in week 16 even rises to +29 %. Therefore, an overall traffic increase of +7 % can be reported in comparison to the beginning of the study.
Recovery in demand is clearly visible in specific vehicle categories
With a current traffic loss of -19,6 %, the corona crisis had a particularly strong impact on the demand for transport vehicles (week 10 – week 16). At the same time, however, the number of ads on TruckScout24 is increasing significantly. Therefore, potential buyers currently benefit from a huge vehicle stock of vans and transporters on TruckScout24.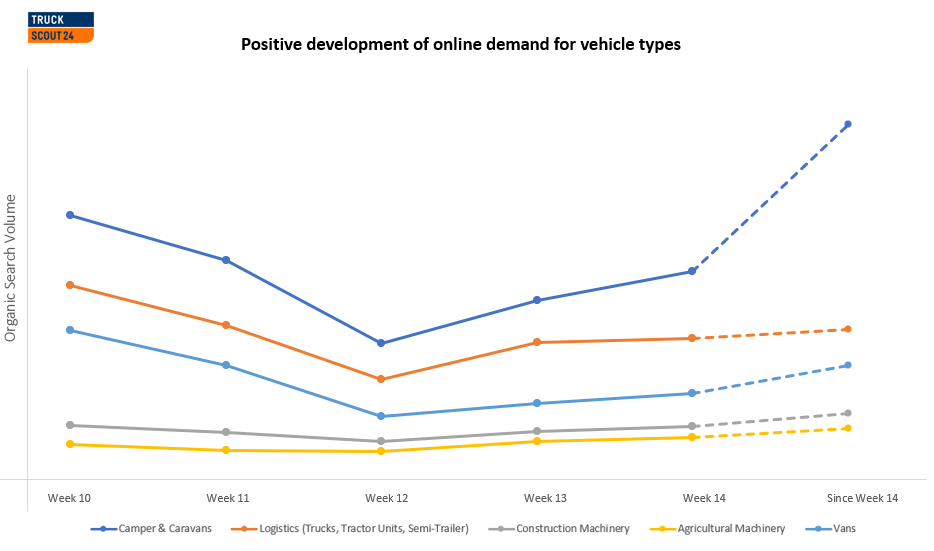 TruckScout24 increases online demand by 46 %
While construction and agricultural machines do not experience a significant loss in traffic, the demand for agricultural machinery even increases by +34 % within only one week (12-13). As a result, in week 16 the traffic increases by +46 % compared to week 10. The traffic for construction machinery report an overall growth of +22% whereas camper and caravans report +23% more traffic.
In all categories of vehicles, the online traffic has already recovered after 2 weeks. According to the V-shaped scenario, the forecasts point to a further recovery in demand in the upcoming weeks and months. With an average of 2 million users per month, the numbers and data from TruckScout24 provide a representative picture of the commercial vehicle market.