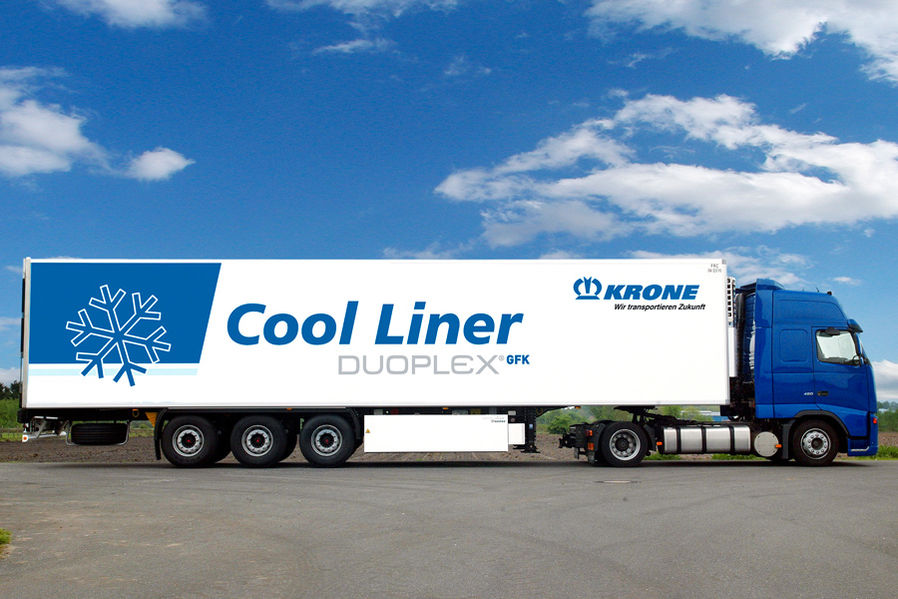 Cooling semitrailers are needed throughout the year, but in summer, they must be able to crank up their performance a notch or two. In early 2012, semitrailer manufacturer Krone launched a new generation of its Cool-Liner cooling semitrailers. This included the Cool Liner Duoplex GFK with fiberglass-reinforced plastic panels made in Denmark.
Duoplex GFK has better insulation
The Cool Liner Duoplex GFK has better insulation and stability than before, according to eurotransport.de. The heat insulation (K-value) of the polymer version has been improved by manufacturer Krone through the use of stronger panels for the roof and the front wall. The roof panel was reported to be 3 ¾ inches (95 mm) thick, roughly ½ inch (10 mm) thicker than in the previous generation. eurotransport.de stated that the front wall is approx. 2 ⅓ inches (60 mm) thick. This would result in an interior height of 104 inches (2645 mm) and an interior length of 527 inches (13400 mm).
The baffle plates on the front wall reduce the length available for loading by roughly 7 ½ inches (195 mm). The clear width of the Duplex GFK is approx. 97 inches (2460 mm) and the panel thickness of the sidewalls, almost 3 inches (66 mm). It is also possible to obtain a 49-mm (almost 2 inches) sidewall that increases the usable width to 98 inches (2495 mm).