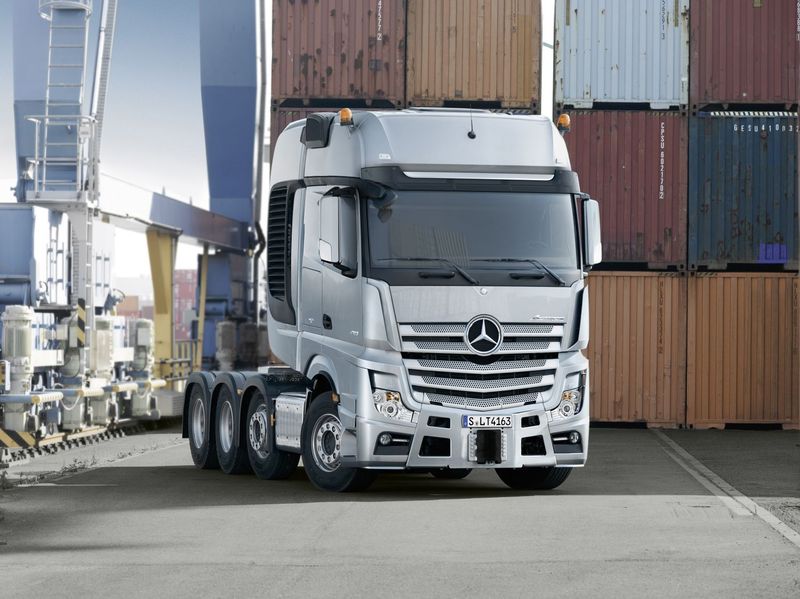 The Mercedes-Benz SLT tractor unit is well known among heavy-load haulers, and TruckScout24, too, currently has some Swabian "heavy lifters" in form of used trucks in its program. However, the Swabians are now launching a completely new Mercedes-Benz SLT. It completes the introduction of the Mercedes truck series with Euro-6 engines, according to eurotransport.de.
Mercedes-Benz SLT with 625 HP
Under the hood of the heavy-duty truck with the basic Actros and Arocs chassis, works the in-line six-cylinder engine OM 473 in the Euro-6 version. The strongest engine provides 625 HP at 2212 ft-lb (3000 Nm) of torque and 1100 rpm, according to the manufacturer. Mercedes-Benz has equipped the automatic Mercedes Power-Shift-3 transmission with a special "Heavy" driving program and has configured it for high torque. The truck can therefore tow heavy loads of up to 250 tons, promises Mercedes Benz. The driver can choose from among 16 gears. During start and braking, the driver is supported by a standard turbo-retarder clutch.
Driver's Cab: Choice of Big Space and Giga Space for Mercedes Benz SLT
The manufacturer offers the heavy-duty truck as an Actros SLT with air suspension and giga-space or with big-space driver's cab. The Arocs SLT with steel suspension is being sold with a big space (approx. 8 ¼ ft, 2.5 m) or a stream-space (approx. 7 ½ ft, 2.3 m) driver's cab. The Arocs is optionally available with four-wheel drive.
The SLT heavy tractor units may be ordered from any Mercedes Benz truck dealer effective immediately. The basic chassis for the Actros SLT with air suspension and, as the Arocs SLT, with steel suspension are available in December 2013. The four-wheel-drive versions of the Arocs SLT will be ready for sale in April 2015. Custom Tailored Trucks (CTT) in Moslheim/Elsaß, which is managed by the Wörth truck plant, irresponsible for the development and production of the SLT.