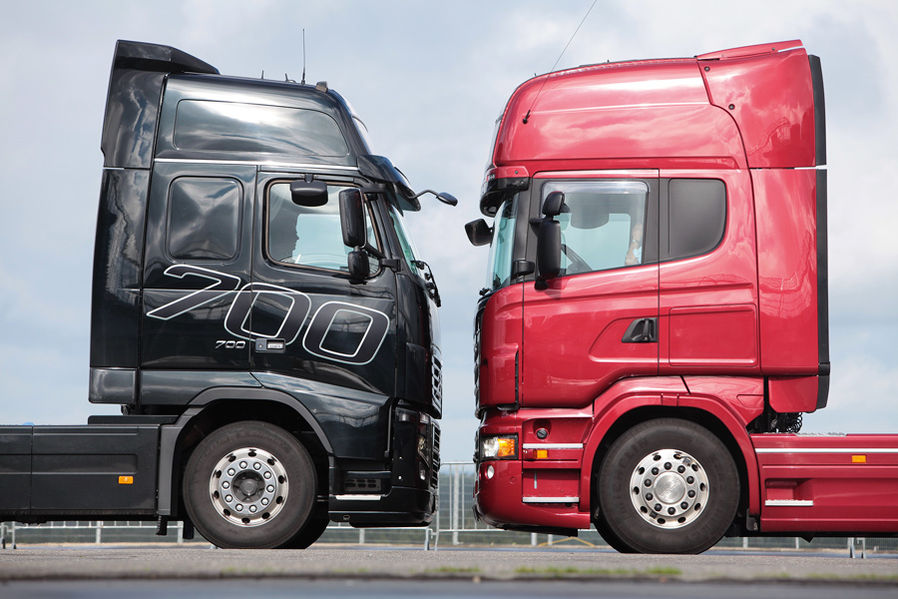 In 2010, lastauto omnibus magazine arranged a meeting of giants: the Scania R 730 and Volvo FH 16-700, the most powerful production trucks worldwide at the time, squared off for the first time. They both had a lot to offer. The Scania R 730 plunked 730 HP and a maximum torque of 2850 lb-ft (3500 Nm) on the road. The Volvo FH 16-700 was hardly less impressive: it came up with 700 HP and 2323 lb-ft (3150 Nm).
Volvo FH 16-700 Banks on I-Shift Transmission
Volvo used its secret weapon for the lastauto omnibus test: the I-Shift transmission. This showed in the test. The experts noticed with some surprise that the Scania can easily lose 2 to 2.5 mph (3 or 4 km/h) when changing gears on inclines. However, the Volvo with its extremely fast I-Shift transmission kept its speed unperturbed. Still, both Vikings handled normal inclines with ease. What to do? Well, there is always the Green Hell of the Nürburgring …
Once arrived, the Scania R 730 and Volvo FH 16-700 faced Federal Highways B 412 and B 258 with inclines of up to 13 percent. Now the Swedish trucks, too, had to exert more effort. The route was driven twice, once in normal automatic mode (without kick-down or power function) and once in manual mode with the focus on speed. The Scania showed all its power, but also required more diesel than did the Volvo. It was surprising, however, that the difference in consumption was greater in automatic mode than during the manual speed ride.
Scania R 730 Impresses with Cruise Control
The Volvo FH 16-700 impressed the testers with its fuel-saving I-Shift transmission, while the cruise control of the Scania R 730 hardly ever exceeded the set brake speed. The multi-function steering wheel with its user-friendly buttons for cruise control, brake cruise control, and trip data was also enthusiastically received by lastauto omnibus.
The testers could not determine a final winner and produced a Solomonic judgment: advantage for Volvo's consumption and transmission, advantage for Scania's driving performance and driver's cab. The price for each new vehicle was above 120 000 €. TruckScout24, however, offers Volvo and Scania models at significantly lower prices—and who really needs more than 700 HP for day-to-day use?