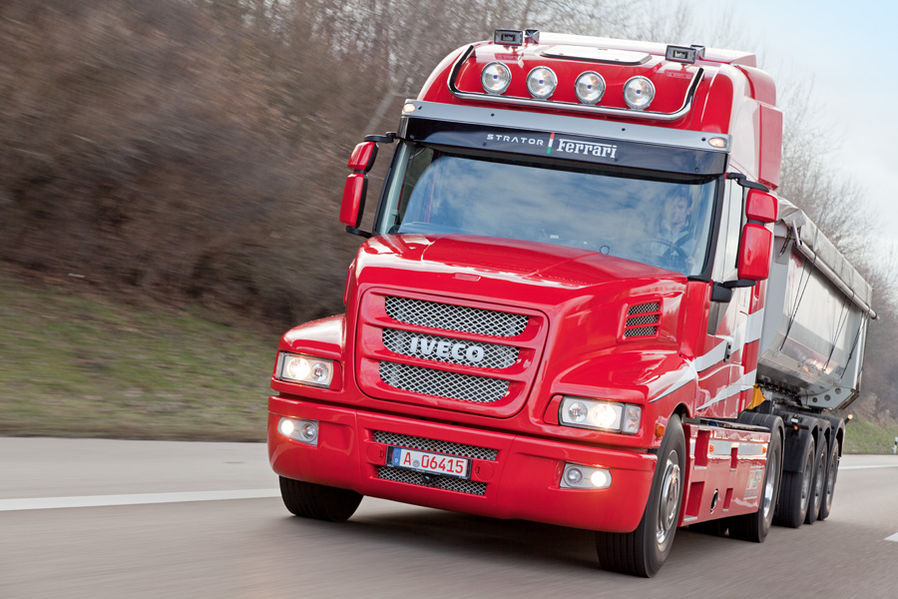 The Iveco Strator ASN 440 S 45 is a rarity among artics in Europe.  With its long bonnet, it is more reminiscent of a US truck. In 2011, the magazine FERNFAHRER invited a few professional drivers to test the Italian truck with the cheeky nose.
49-year-old Reiner Klumpp from Sindelfingen was very positive: "I always wanted to drive an American truck", he told the FERNFAHRER editors on the ground. Klumpp was just as enthusiastic about the automatic transmission as he was about its shunting mode and its starting on snow. However, the steering of the Iveco Strator attracted some criticism: "It doesn't run in a very straight line." The seat was also positioned too high for Klumpp. Moreover, he complained: "When I'm right at the bottom, there's no suspension any more and I can feel every bump." The mirror and visibility, on the other hand, were praised. There were extra points for the on-board camera – when shunting, for example. The top bunk with multiple functions on its control unit was also a plus for Klumpp.
Jesse James tests the Iveco Strator
A genuine American truck should, of course, be tested by a genuine American – or at least by a German-American, as in this case. Jesse James Jenkins took to the American truck. One thing he didn't like was the climb on board, which, although low,is also very steep. He liked the cockpit more: "The seat position is fine and the seat provides good side support." The 35-year-old was also enthusiastic about the wide-angle mirrors, the all-round visibility and the camera on the Iveco Strator. While Jesse James found the instruments confusing, he liked the steering wheel buttons very much. There was also plenty of space in the Italian truck. Although he found the engine a little loud, something like that doesn't bother a real cowboy.
Dirk Brinkbäumer from Lippstadt can be regarded as an Iveco expert. At the time of the test drive, he had already been driving an Iveco Stralis for four years. For him, the Iveco Strator showed some obvious progress compared to his vehicle. "The storage compartments above the windscreen and the large bed with its strong ladder are much better," he told the FERNFAHRER editors. Brinkbäumer was also fulsome in his praise of the automatic transmission and the on-board camera. He would also have liked to have the shunting mode of the Iveco Strator in his lorry. "It feels good when you drive up to the ramp under winter weather conditions, for example." And he leaves the biggest plus of the American truck until last: "With the Stralis, I don't like the fact that I have to tip the cab forward to top up with oil. You don't have that problem with the Iveco Strator."